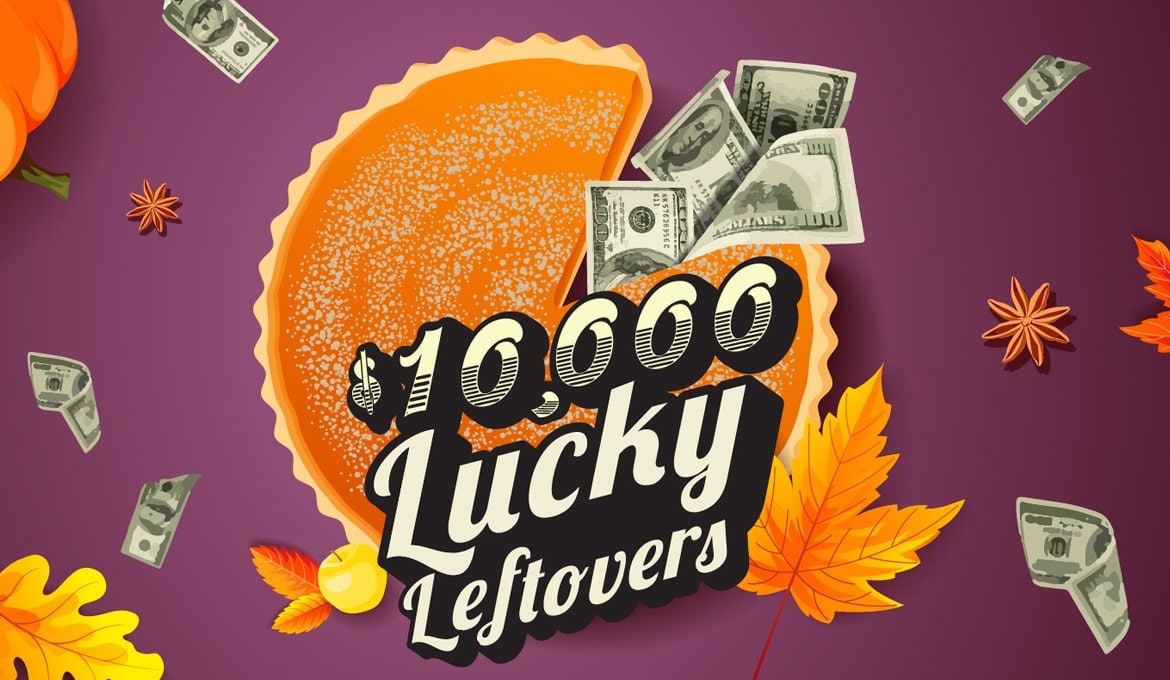 Ring in Holidays with Lucky Leftovers
Everybody grapples with leftovers at some point during this holiday season. At YBR Casino & Sports Book, we decided to build a fun and potentially lucrative promotion around them.
Except these leftovers aren't the kind you eat. They're the kind that make you rich.
In all we'll be giving away $10,000 in cash. The giveaway revolves around a drawing that will be held on the day after Thanksgiving—Friday, November 26. Guests can earn entries for the drawing all month long by playing slots and table games. Guests also get one entry for every day they check in at a kiosk with their TS Rewards cards.
On the day of the drawing, we'll roll out a big cardboard pumpkin pie, cut into 10 "slices." Each "slice" will correspond to a different prize amount: $2,000, $1,500, $1,000, or $500. Each time we select a winner, that person can come up and pick a slice. The grand prize winner gets all the leftovers.
Here's where the promotion gets tricky. We'll pick two names at random every hour at 6, 7, 8, and 9 p.m. If the winner is not present when their name is called, there will be no redraws.
Put simply, this means there could be quite a lot of slices left over for the grand prize.
The final drawing of the night—the one where the winner gets all the leftovers—goes off around 9:30 p.m. If the first winner is not present for this drawing, we'll redraw until we find someone who is.
"By the time we get to the grand prize, the big winner could potentially walk off with a good chunk of change," said Melissa Paquette, casino promotions coordinator. "Seasonal promotions like this are fun—especially when they could mean a serious takeaway for the winners."
Melissa is no oddsmaker, but she was happy to provide information about win percentages. Of the 10 slices, there is one $2,000 prize (10 percent), two $1,500 prizes (20 percent), two $1,000 prizes (20 percent), and five $500 prizes (50 percent). As long as they're present to win, each winner will take home at least $500.
So come hungry! And stick around! Thanksgiving leftovers have never tasted this good.