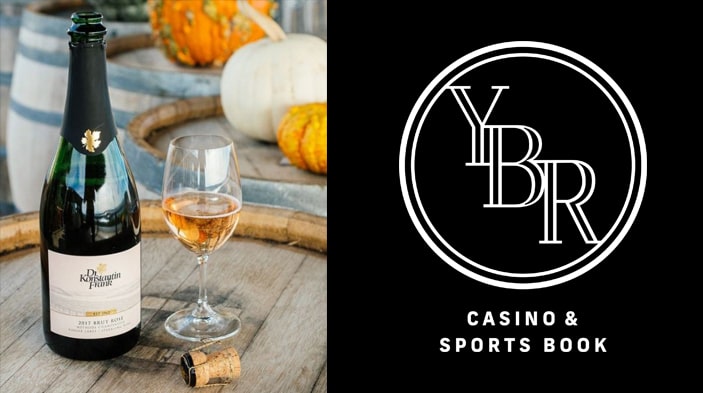 Local Love
YBR Casino & Sports Book is a locals' casino. Naturally, then, we go out of our way to support local purveyors and artisans whenever we can.
On our food menus, this means sourcing produce and other items from local farms and bakeries. In our beverage program, it means spotlighting local wineries, breweries, distilleries and other companies at bars across the property.
Beer and cider drinkers will recognize local brands such as 1911 Established (based in Lafayette), Saranac Brewing Company (based in Utica), Ithaca Beer Company (in Ithaca, of course), Ommegang (based in Cooperstown), and more. For those who prefer the hard stuff, we're pouring Recipe 21 Vodka from Rochester and Cuse Juice from Lock 1 Distilling Company in Phoenix.
Then, of course, there's wine.
We're huge fans of local wine, especially considering that we've got so many great products coming out of the Finger Lakes region. This fall our F&B outlets are featuring Dr. Konstantin Frank Winery in Hammondsport, Bully Hill Vineyards in Hammondsport, and Lakewood Vineyards in Watkins Glen.
Tim Trendell, nightlife and beverage director, said establishing relationships with local purveyors helps the Oneida Indian Nation stay connected to the community.
"YBR has been supporting local businesses from Day 1," Tim said. "Many of our partnerships with local breweries, wineries, and distilleries offer guests an opportunity to try all the best in the region from brands and families they know and trust."
The best part about our focus on local products is that we like to spread the love. This means we will continue to grow our program, and we likely will carry different beers, ciders, spirits, and wines from local producers next year. If you stan a local product and you'd like to see it on our menus, tell your bartenders. And if you like some of the stuff we've got on our menus currently, by all means, tell your friends.