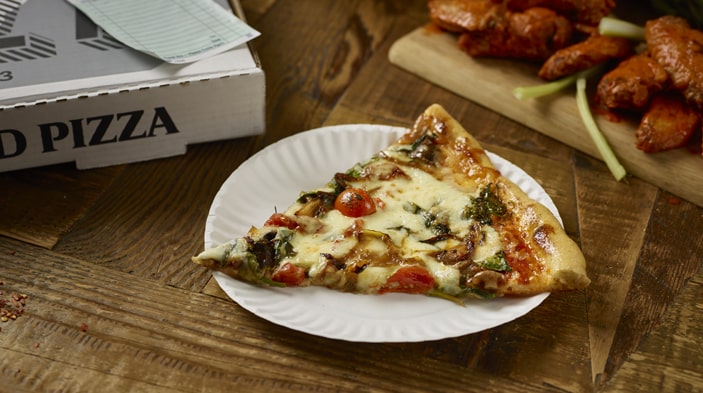 Wicked Good Pizza's Greatest Hits
The name says it all: Wicked Good Pizza has pizza that is, well, wicked good. And the outpost here at YBR is where the chain started—since it began when the casino opened six years ago, the Oneida Indian Nation has added two other locations at Point Place Casino and Turning Stone Resort Casino.
Sous Chef Mike Gleason has been in the YBR Wicked Good kitchen since the very beginning and he's the creative genius behind some of the parlor's most iconic pizzas.
He says that guest favorites include veggie, chicken bacon ranch, Philly cheese steak, and white pizza.
But Gleason notes that other "Pizza of the Day" flavors deserve recognition as well. Here, in no particular order of preference, are some of his faves:
Loaded Salt Potato pizza. For this pie, Mike tried to deconstruct a loaded baked potato and recreate it on pizza dough. Instead of sauce he melted butter. Atop that he threw some parmesan, cheddar, mozzarella, and bacon. He finished off the pizza with salt potatoes and smashed them right onto the crust. The result: A one-of-a-kind tater skin, with crust.
American Flag pizza. To celebrate Independence Day a few years ago, Mike attempted to make the Stars and Stripes out of pizza. He started with rectangular dough and topped it with pepperoni and onions to create stripes. For the blue background in the top corner he used blue food coloring to die the cheese.
Hot Dog pizza. This creation was without question one of Mike's most innovative. Instead of tomato sauce, he melted cheddar into a sauce and used that as a base. On top, he spread chopped-up hot dogs and hot-dog fixings such as relish, mustard, and ketchup. The pizza wasn't a best-seller but it looked fantastic. Clearly Chef Mike is not afraid to take risks!