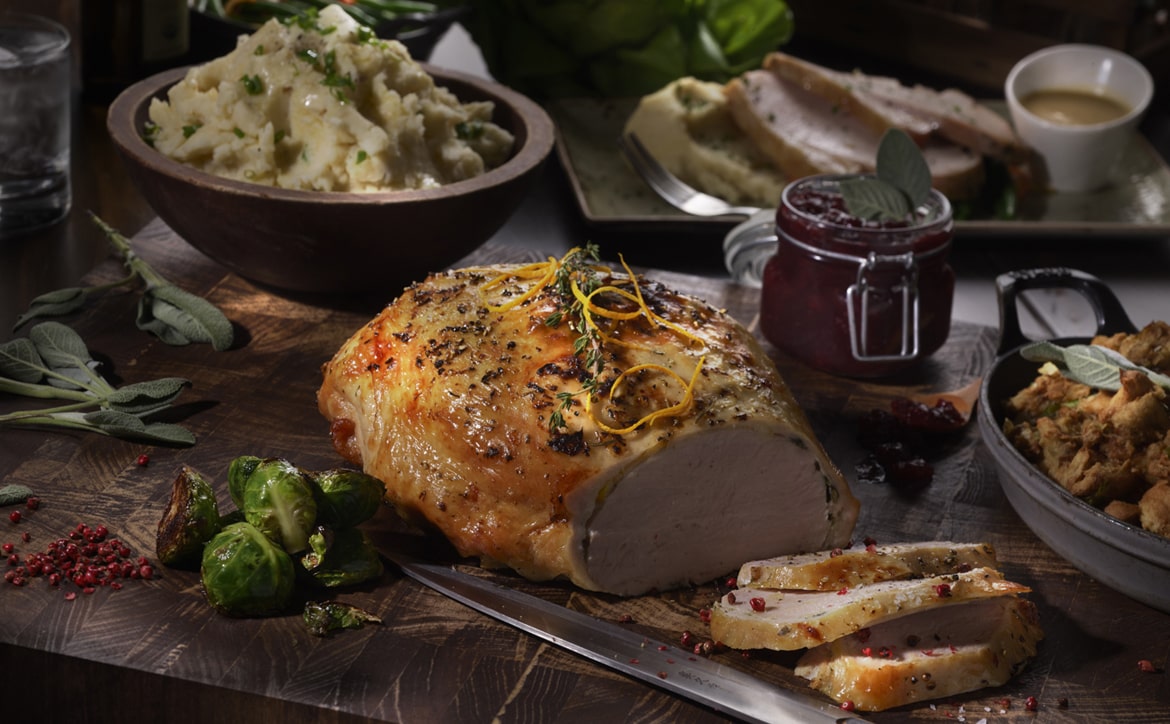 Thanksgiving Meal, YBR Style
Thanksgiving is all about gratitude, and we're thankful that the chefs at YBR's outpost of Burgers of Madison County are cooking up a holiday feast for the ages.
The dinner is available exclusively on Thanksgiving Day—sort of a one-night-only take on deliciousness.
Like most Thanksgiving dinners, ours includes all the basics: roasted turkey, gravy, stuffing, and cranberry sauce. There are several optional sides available too: green beans, cornbread, and a delicious butternut squash soup.
According to Kevin Giunta, assistant executive chef at Turning Stone Resort Casino, the meal aims to capture all the traditions of the Thanksgiving holiday with none of the fuss.
"There are so many talented chefs working for us," said Chef Kevin, who runs the Commissary Kitchen at Turning Stone that supplies food to multiple Oneida Indian Nation restaurants across the region. "No matter how good of a cook you are at home, you're probably not going to prepare a meal better than this one."
Kevin added that the Burgers of Madison County meal also is incredibly convenient.
"People are so busy now, any extra time you can capture to spend with your family makes it worthwhile," he said.
Not only do Chef Kevin and his team of chefs make dinner but they also make dessert; guests can purchase apple or pumpkin pies separately to take home and bake. This is just another way the Oneida Indian Nation is aiming to make the holiday season easier for everyone.
Interestingly, the recipe for the butternut squash soup has been in Chef Kevin's repertoire for more than three decades.
The soup is vegetarian and the key ingredient is squash. To prepare it, chefs roast it, peel it, remove the seeds, dice it, and rice it for easy storage. From there, they toss in some pumpkin and sauté it all with garlic, butter, onion, and carrot. They also add fall flavors such as nutmeg, sage, fresh thyme, and a touch of local honey.
One diner described the soup like "autumn in a bowl." We couldn't agree more.