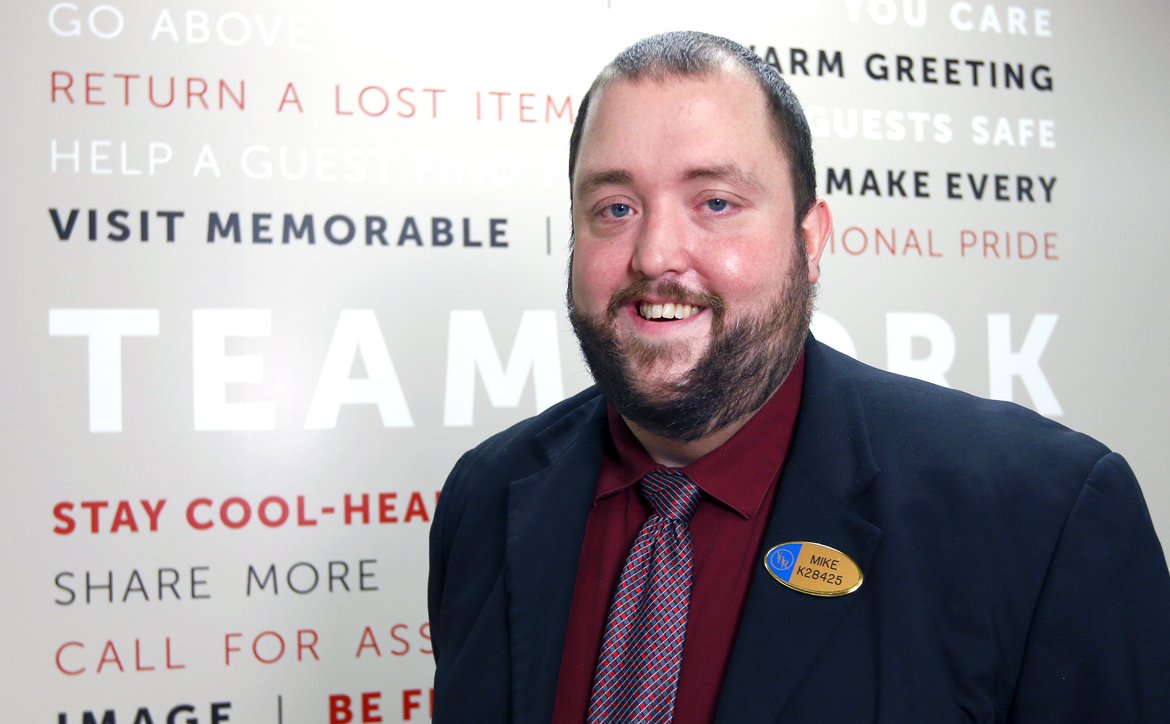 Slot Master Mike Matthews
The first thing you notice when you see Mike Matthews patrolling the slot floor inside YBR Casino & Sports Book is the computer on his arm. The device, no bigger than an iPhone, is on him constantly when he's on shift. It's connected to all 500 slot machines on property. And it notifies him exactly when a particular machine needs attention.
This is life for a lead slot rep—always in the know, always ready to troubleshoot problems, always ready to serve.
"My job is essentially to keep our slot players happy," Mike said. "It's work, but also a lot of fun."
Mike grew up in Cazenovia and now lives in Bridgeport. He has been working the slot floor here since the very beginning—"since Day 1," as he likes to say. He subs in as manager when his manager is out, which means he runs the show Wednesdays and Thursdays every week.
On each shift, Mike easily logs 10,000 steps walking around the casino. If he's not servicing a machine or managing a payout, he'll stop and talk to regular guests, asking them about their lives.
Every time someone wins a jackpot of more than $1,200, the computer on his arm tells him, Siri-style.
Mike wasn't always into slot machines; in fact, this is his first job in the casino industry overall. He was working as a shift manager at a local McDonald's when he applied six years ago. The decision proved to be life-changing in more ways than one: Not only did Mike find his professional calling, but he also met his wife Kathleen during a four-month training and orientation at Turning Stone Resort Casino.
Over the years, working for Oneida Nation Enterprises has helped Mike in other ways. In 2018, for instance, he developed a rare blood disorder that necessitated a lengthy hospital stay. The stay was covered by health insurance, and YBR Casino & Sports Book managers gave Mike plenty of time to come back to work.
"They even called to check on me when I was in the hospital," he remembered. "One of the things that stands out about YBR Casino & Sports Book and Oneida Nation Enterprises is how much they care."
Perhaps this is why employment with ONE has become a family affair for Mike. His wife Kathleen works at Point Place Casino as the TS Rewards desk supervisor, while his sister-in-law works in the cage here at YBR Casino & Sports Book and his mother-in-law works here as a graveyard shift lead in the slot department.
When Mike isn't on the clock, he's probably off listening to live music or watching football (he's a die-hard Denver Broncos fan). At night, he logs on and attends Southern New Hampshire University for sports management; he is hoping to finish that program by 2023.
Until then, Mike will continue patrolling the slot floor, paying out winners and keeping people happy.
"This is a great place to be," he said of YBR Casino & Sports Book. "At this point in my life, I couldn't imagine a better way to spend each day."