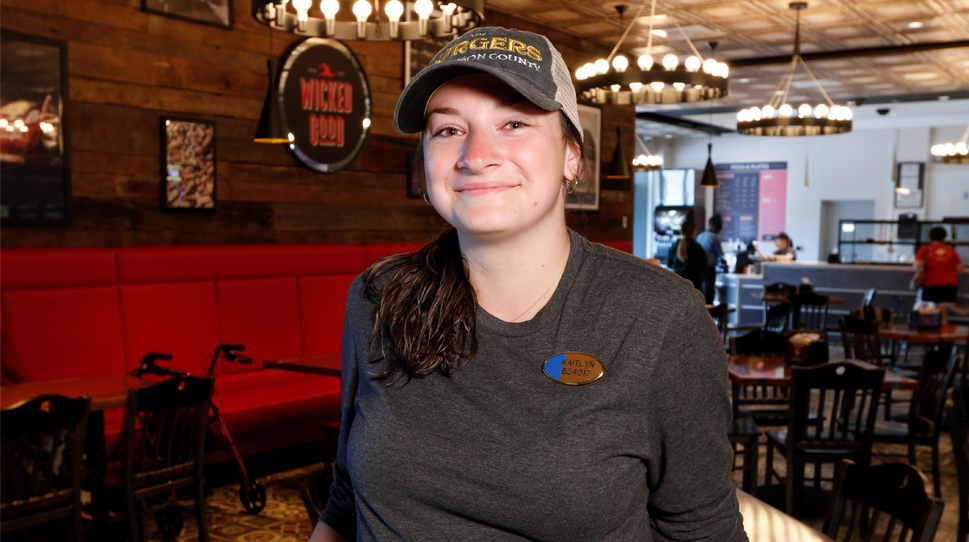 Part-Time Work, Full-Time Satisfaction
Though Kaitlyn Angus works part-time at YBR, she finds the job totally fulfilling in every way.
The native of Johnstown works roughly 20 hours a week as a cashier at Wicked Good Pizza and took the gig to help pay her way through school at SUNY Cortland.
While the role has provided Kaitlyn with the money she'd hoped to earn, it also has given her something she never expected to receive: A group of co-workers who have become so close that they're now like family.
"The people I work with have become my best friends, and I love them all dearly," she said recently. "I enjoy coming to work every single day, and I realize how lucky I am to be able to say that."
Kaitlyn has worked at YBR for almost a year. Her favorite shifts are on weekends when YBR schedules live music for the East End. On those nights, she said, she and her coworkers are able to dance and sing along to the music while they are prepping, running and bussing food. (In case you're wondering, she has boogied her way to deliver chicken wings to a few tables in her day.)
Flexibility is another thing Kaitlyn loves about her job. Normally she works a few days a week so she can have time to complete her schoolwork. During summer and school breaks, however, her supervisors work with her to schedule additional hours.
"The extent they are willing to work with me is great," she said. "It's always about whatever works for me."
Kaitlyn is currently studying outdoor education at Cortland and aspires to be an outdoor adventure guide.
"Someday I'd like my entire career to revolve around being outside and exploring nature," she said. "There's no question working for Oneida Nation Enterprises will have played a huge part in making that dream come true."