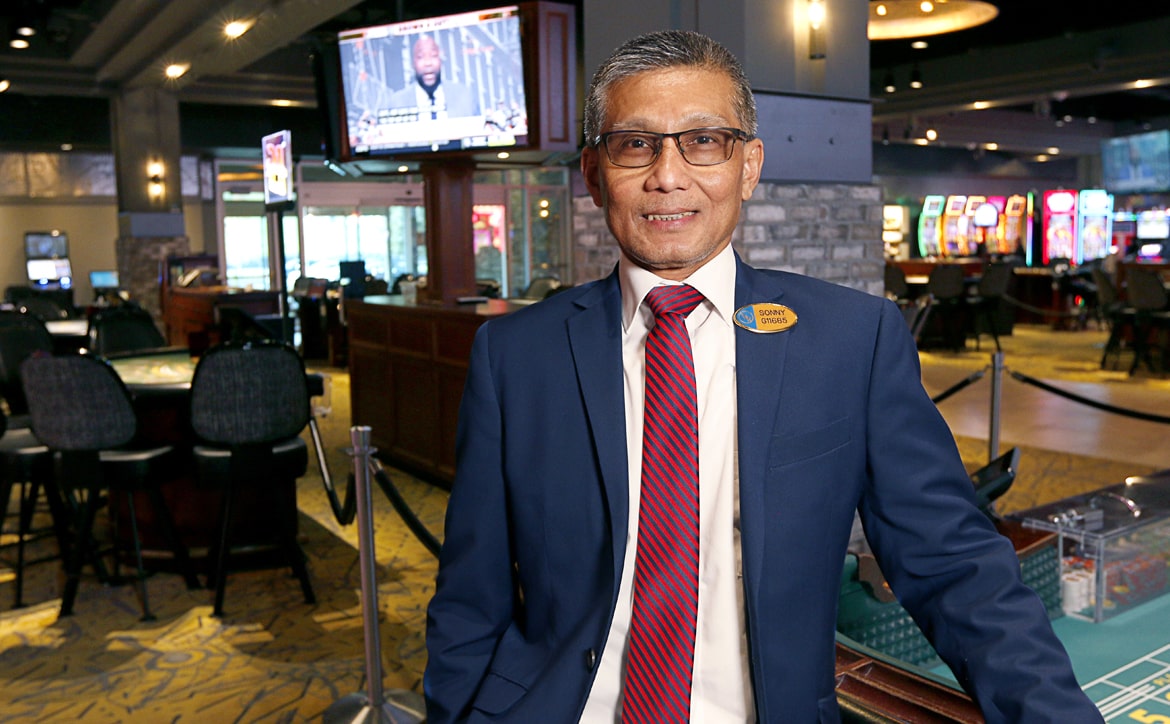 Follow the Sun
All you really need to know about Floor Supervisor and Pit Boss Soe Htut is his assumed American name: Sonny.
Yes, he opted to use this instead of his given Burmese name because it's easier to pronounce (you say his formal name like, "so"). But he also chose it because his given name means "bright," because suns shine brilliantly, and because his disposition is always positive.
"It has multiple meanings, I guess," said Soe, who hails from Myanmar. "It definitely works."
Soe has been patrolling the table games pits at YBR Casino & Sports Book since Day No. 1. Before that, he spent more than 15 years working as a dealer at Turning Stone Resort Casino. The accomplishment is particularly impressive when you consider he had not stepped foot in a casino until he arrived at Turning Stone for his first interview. He credited our dealer school with teaching him everything he knows.
"I never thought I'd ever work in a casino," he said. "Growing up, it just wasn't something we ever really thought about."
Everything changed on April 10, 1998, when Soe emigrated to the United States. He came from a nation riddled with civil war. He disembarked in Buffalo and gradually made his way east. Today, he lives just outside of Utica, home to 10,000 Burmese and a huge population of refugees from all over the world.
Soe knew some English when he arrived, but relished the opportunity to learn more from dealing blackjack and interacting with guests. By the time he opened YBR, he had achieved both fluency and comfort with his new language. Today he is able to leverage his language skills to communicate with guests in either English, Burmese, and Thai. As he tells it, he's always still learning.
"Life is a journey that never ends," he said. "You have to open your mind to learning wherever you go."
When Soe isn't at work, he's doting on his two sons—one is a respiratory therapist, and the other is in college. He is also very active in the local Burmese community, which continues to protest the oppressive leadership in the country now known formally as Myanmar.
Activism is a part of his journey, and it's something he takes very seriously as a way of protecting the country he grew up knowing.
"We are trying to have a democracy in our country," he said. "Until we have democracy in Burma, I will be an activist against the dictator and those who are ruling my country. Even here, even now, I'm still fighting for it. Because I believe in it."