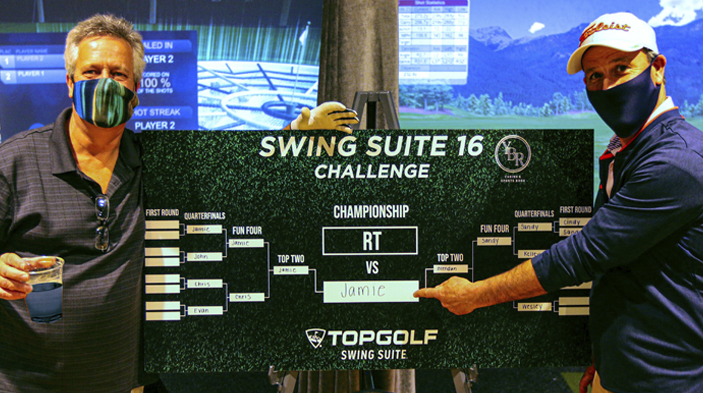 Letting Loose in the Recreation Area
The notion of "gaming" is relative on the casino floor at YBR—especially when you're talking about the Recreation Area, the newer section of the casino where we offer bowling, two Topgolf Swing Suite bays, and more.
In this section of the casino, off to the right of the front door, guests can play against the house and each other at our new table games in the party pit, which is scheduled to open in early July.
Our bowling area, The Lanes at YBR, features six lanes of ten-pin, as well as a swanky lounge and expansive area for bar games such as shuffleboard. This entire section of the room is ringed with televisions, so guests can watch sports and follow along with sports bets if they've wagered on the action. The area—including the lanes themselves—is limited to guests 18 and older.
Next door is our Topgolf Swing Suite, a virtual experience that can simulate golf and other games.
Some of the other games include baseball pitching, a football quarterback challenge and soccer. Another contest that guests seem to love is Zombie Dodgeball, where participants must throw balls at virtual zombies before the zombies get too close.
While there are no formal ways for guests to wager on the outcomes of Topgolf or bowling, most of our grown-up guests do, adding to the fun.
In 2021, YBR also started creating tournaments around the Topgolf Swing Suite.
This March, for instance, we hosted a March Madness bracket-style "Swing Suite 16 Challenge," a competition where golfers test their skills for a chance to win a variety of prizes, including a $50 gift card and round of golf for two at Turning Stone's award-winning Shenendoah golf course. Despite COVID-19, turnout for the event was admirable.
We will continue to create promotions and events designed to inspire guests to spend time in the Recreation Area. Come check it out for yourself!