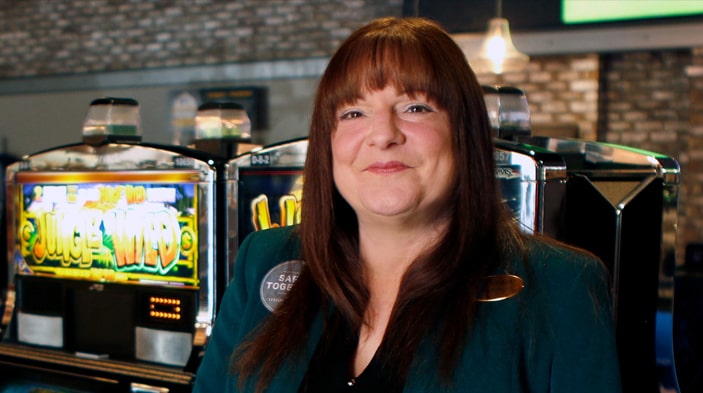 Meet Donna Farruggio: Running Things Smoothly Since Day 1
Operations Manager Donna Farruggio is a problem-solver.
Whenever there's a problem at YBR, whatever departments might be affected, Donna is one of the people on staff who gets things fixed—efficiently, quietly, and reliably.
This skill set hasn't come naturally—Donna has developed it through a lifetime of work in the casino industry. She was one of the first employees to come aboard before YBR Casino & Sports Book opened six years ago, and she loves the job so much today she boasts she likely will never leave.
She even moved her father to the area so she could keep tabs on him without having to go too far.
"I am proud to work for Oneida Nation Enterprises. I've worked at a bunch of different casinos over the course of my career and have never felt like such a part of a team."
Donna's career began in Atlantic City at age 19. She took a job in one of the casino gift shops, then got a special license that allowed her to become a slot attendant.
She worked her way up in the slot department there and years later jumped to the Taj Mahal as a shift manager and supervisor. From there, she went to Revel to be part of the opening team in 2011. She stayed to close the casino in 2014.
At that point, Donna was contemplated leaving casinos for good. But she spotted an advertisement for a job opening at YBR and was intrigued, so she felt she had to apply at the very least.
A week after her interview, she was hired.
Fast-forward six years and one of Donna's favorite things about working at YBR is the way Oneida Nation Enterprises gives her flexibility to do what she'd like.
"In Atlantic City, I was a slot girl," she said. "Here, I am so much more. I can be in the kitchen. I can be in the bar. I go to marketing meetings and we figure out what kind of events we want to do and what kind of promotions we want to have. There's something new every day and it keeps me busy all the time."
Donna is so committed to Upstate New York that she recently moved her 88-year-old father to the area so she can contribute to his care. He likes coming to the casino and having dinner at Burgers of Madison County while Donna is wrapping up her shift. Surely, he rests easy knowing his daughter is in charge.