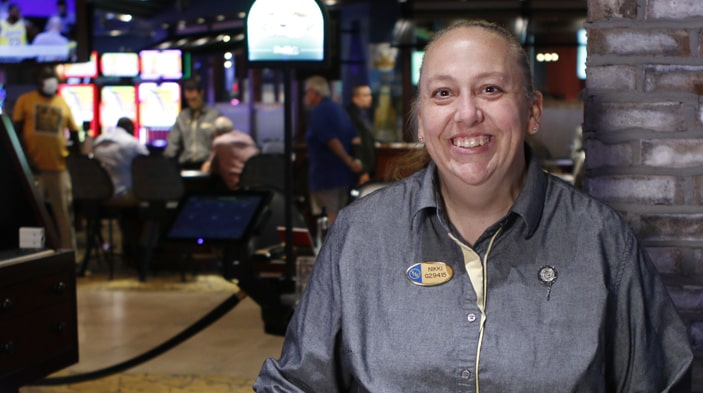 Hold the Bacon
Whether you know her as Bacon, or the "Woo-Woo Girl," you've probably crossed paths with Nikki Bacon here at YBR.
In her five years as a dealer, the Syracuse native has become famous for both her mouth-watering last name and for the way she responds when players hand over tokes—with a loud and bird-like "Woo-Woo!" that echoes throughout the gaming floor.
"I'm trying to keep it light and fun," she says. "I love our guests."
Nikki, 46, took a circuitous path to dealing cards. For eight years, she worked full-time doing data entry at a local construction company. Toward the end of her tenure there, she took on another job, working part-time at a local supermarket next to the casino. One day a customer came in and suggested that she try working in the casino. A week later, she signed up for dealer school at Turning Stone Resort Casino.
Learning how to deal wasn't easy—especially because Nikki had never played poker in her life. She jokes that when she first learned 3- and 4-card poker, the only way she could keep hands straight was by thinking of Yahtzee, a recreational dice game based that incorporates some poker rankings.
Of course, those days are behind her now. Nikki spends most of her time dealing novelty games, though she sometimes deals blackjack as well. Wherever she's stationed, players will wait to sit at her table.
"I've got a bunch of regulars and they make it enjoyable for me. That's a perk of the job."
Perhaps Nikki's favorite thing about working at YBR: She gets to work with her daughter Brooke. The girl recently scored a job as a chef at Wicked Good Pizza & Plates, and the two often travel to and from work together.
Nikki loves to tell people she works with her daughter and regularly embarrasses Brooke by doing so. Fittingly, she introduces the teenager in an inimitably Nikki way: As a "Bacon Bit."
At this point, from the "Woo-Woo Girl," we should expect nothing less.